Top 10 Student Eats In Sheffield
Studying for a degree isn't about continuous study. You're going to need to take some time for yourself. Get out into the city and hit up some of the finest independent eateries in town. Recuperate, rest and replenish. Sheffield's a top place to do just that with cuisine clusters dotted all over, from Mexico to New Zealand via a pit-stop in Vietnam.
The list is interchangeable, depending on what you facny, but there to be completed!
The Street Food Chef
Sheffield's original Mexican cantina. Fast food done healthy, The Street Food Chef is archetypically Mexican to its core yet retains that Sheffield independent magic we so love. Burritos, tacos and quesadillas, your choice of salsa and a El Bastardo Man vs Food challenge; a Sheffield favourite.
Twisted Burger Company
The edgiest burger joint in town, Twisted Burger Company has been serving out of the eclectic Harley for years. The burgers push boundaries, the fries are adventurous (get on the jalapeno business fries) and there are always plenty of vegan specials. A new restaurant has just opened up in Broomhill but you can grab a feed at The Harley until 1am for when you've been trapped in the library putting the hours in!
Bungalows and Bears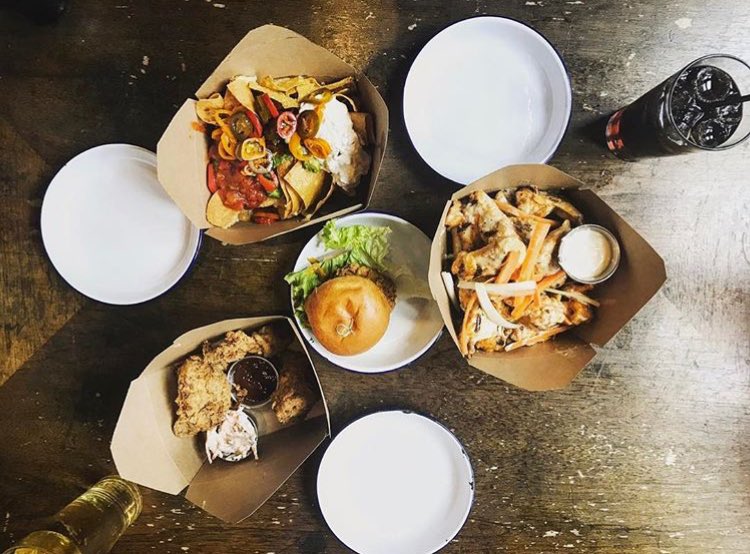 Let's start with the chicken. Oh, the chicken. The chicken is to die for. Succulent and gravy coated. Fried, winged or spatchcocked. So, so good. The rest of the menu is in equal measure. Comprised of some mighty fine, yet oh so simple burgers, wild sides and shakes. Tuesday's are 2-4-1, every Tuesday. Worth it.
The Great Gatsby
Doing alright with the Mexican delicacies, here; Shy Boy Cantina resides in The Great Gatsby on Division Street. But it's not just another Mexican. Shy Boy has fused pan-Asian and Mexican to delicious effect. Kimchi and katsu are prevalent throughout the menu in tacos and topped fries. Laid back food befitting of its environment ideal for lining the stomach .
Blue Moon Café
For all you veggies and vegans out there, Blue Moon Café is probably going to become a regular acquaintance of yours. With the vibe of a Mediterranean-fused tea room in the backdrop of the cathedral, Blue Moon change their menu daily. Expect soups, quiche, homity pies and a fresh salad bar with cake if you can manage it. It's all homemade and feels quite artsy. Worth a visit even if you're of the carnivorous persuasion.
Tamper
If you've never been to Tamper for coffee, or breakfast, then you'll definitely know somebody who will tell you that your foolish for not doing so. Working to a cool New Zealand cafe culture, the coffee takes presidency but the kiwi-inspired brunch menu (especially the Eggs Benedict and Mince on Toast) is reason alone to pay it a visit.
Saigon 68
When plumping for a far-Eastern takeaway, most hit up their favourite Chinese. This little Vietnamese cafe will break you from the mould. The food is traditional, plentiful and, for the quality, pretty damn cheap. Eat in or takeaway, we think you just might fall in love with this place.
Picture House Social
There can't be a 'top eats' list that doesn't contain some sort of pizza. Everyone loves pizza but everyone loves pizza and beer that little bit more. Throw in a couple of table tennis tables and Italian street-food nibbles alongside traditional Neapolitan-style bases, and Picture House Social have absolutely got this down.
Lucky Fox
Thankfully for all, Lucky Fox are getting a new restaurant. Another restaurant on Ecclesall Road to handle the demand for some of the finest fried chicken and waffles this side of the pond. The restaurant itself has the very essence of an American food bar serving up craft beer and the food has that hint of homemade mother's cooking to it.
Two Steps
Here's to Sheffield's finest chip shop. A good chippy is the linchpin of every city, town and village, and Sheffield is no different. Located on Sharrow Vale Road, there's no thrills to Two Steps and nothing you wouldn't expect from a chippy, except from the fact they do it better than the majority. Just ask the queues down the road, they'll tell you!
Want to know a bit more about what makes Sheffield great? Take a look here! http://www.sheffcol.ac.uk/college-life/sheffield-the-city