The Supermoon Is Bigger Than Usual, But That's Not Why It Looks So Huge In Photos
By now you have probably heard about today's supermoon. The moon was at its closest to earth around 11.20 am this morning, but eyes peeled 'cos it's coming back close any time now. We think you might have a few questions about the phenomena. BuzzFeed have the answers!
Nasa / (NASA/Bill Ingalls)
A "supermoon" happens when a full moon coincides with the moon's orbit bringing it near to Earth.
Monday's supermoon is the closest the moon has been to Earth since 1948. It won't be this close again until 2034.
The exact time it was closest to Earth was 11.22am UK time, but if you look tonight when the moon rises just before 5pm it will still be almost as close.
It happens because the moon's orbit around Earth isn't a perfect circle, so sometimes it's further away from us, and sometimes it's closer.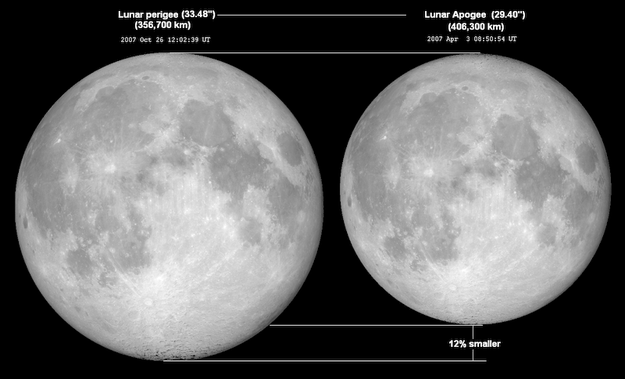 The point at which the moon is closest to Earth is called perigee. It's farthest point from us is called apogee. At perigee, it can be as much as 14% closer than it is at apogee. When it's 14% closer, it will look 14% bigger to us, and shine more moonlight down to Earth too.
The distances of perigee and apogee vary, and today's supermoon is coming the closest to Earth it's been since 1948. The image above shows a lunar perigee and apogee from 2007, when the size difference was only 12% between the two.
But remember: The change in distance (and therefore size) happens gradually over the month, so it's not like the moon is going to appear much bigger today than it did yesterday.
The moon is so far away and so small in the sky that, even when it's a supermoon, you're unlikely to be able to detect any change by eye.
Astronomer Phil Plait explained at Slate in 2013:
While this is technically true, you'd never notice the difference in size or brightness by eye. The full Moon will look pretty much like every other full Moon you've ever seen. Which is to say, big, bright, beautiful, and completely worth your time to outside and see! But Supermoon? Not so much.
So all those photos you've seen of the moon close to the horizon, looming over Earth? The moon doesn't look bigger in them because of the supermoon – it's a photography trick.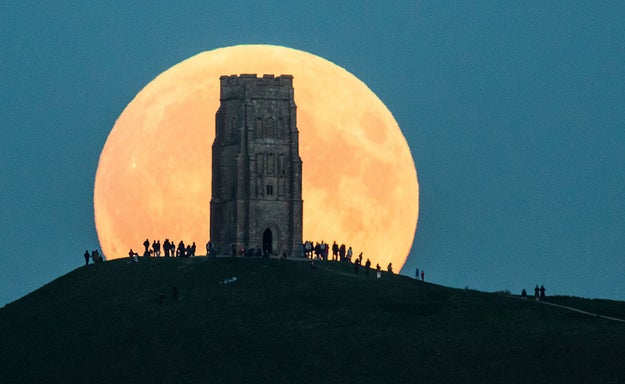 Matt Cardy / Getty Images
To get shots like this one, the photographer stands far away from the landmark near the moon and uses a long telephoto lens. The zoom from the lens makes the landmark, that would have looked tiny, appear normal. But because you haven't really moved that far from the moon, relative to its total distance from Earth, the moon itself appears much bigger.
You could do this during any full moon and get a similar result.
And when you're looking with your own eyes at the supermoon coming up over the horizon, there's also the Moon Illusion at play.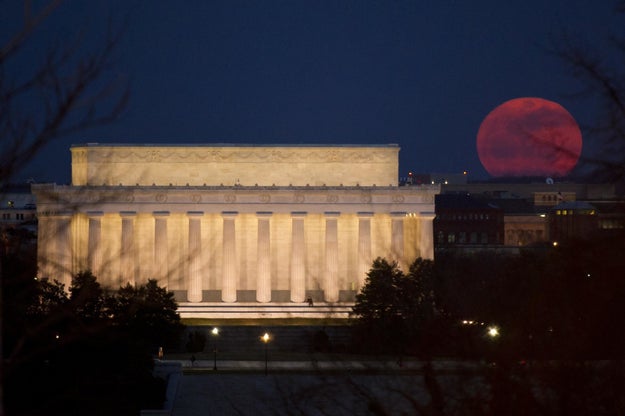 NASA/Bill Ingalls
There's no agreed upon explanation for the Moon Illusion, but in 2000 Lloyd Kaufman and James Kaufman published a paper in the journal PNAS investigating it.
By doing experiments with fake moons, they worked out that your brain thinks a moon near the horizon is further away than a moon higher up in the sky. Because it's actually at the same distance, you perceive that the moon is bigger than it actually is.
(This also explains why, if you try to take a photo of the moon on your phone it looks much smaller and less impressive than it does to your own eyes. Your phone is not susceptible to the illusion.)